Berkeley National Apprenticeship Week
We teamed up with Inspire EBP to promote apprenticeships to Harris Science Academy East London, delivering two bespoke sessions to Year 7 and Year 10 students. The Year 7 session focused on getting the students to think about their future, looking at the skills and attributes they have and understanding what the local market information is. While the Year 10 session was myth-busting what apprenticeships are, looking at the different levels and giving them insight into what employers look for.
It was great to get positive feedback from the students and teachers about these sessions!
Being a Good Neighbour
We remain committed to working with the local community, and most importantly our neighbours to ensure that any disruption from the works is minimised throughout the construction phases.
All of our construction sites across the Berkeley Group are registered with the Considered Constructors Scheme (CCS). The CCS seek to improve the image of the construction industry by striving to to promote and achieve best practice. We are devoted to ensuring that we are working within the strict guidelines set out by the CCS and are proud members of the scheme.
For upcoming works, this means that we are looking to manage construction traffic with lane closures, where necessary, rather than whole road closures, to minimise impact on our neighbours and traffic flows in the area. In light of this, a detailed Construction Management Plan has been developed by Berkeley Homes and approved by London Borough of Newham, which sets out the strict guidelines in which works will be carried out. This includes traffic management with lane closures, and road closures when the bridge decks are being lifted in overnight.
For more information on the CCS please visit: www.ccscheme.org.uk
Work Programme
Our site working times are as follows:
Monday – Friday: 8am – 6pm
Saturday: 8am – 1pm
Sunday & Bank Holidays: No works without prior approval from Newham
Managing COVID and Staying Safe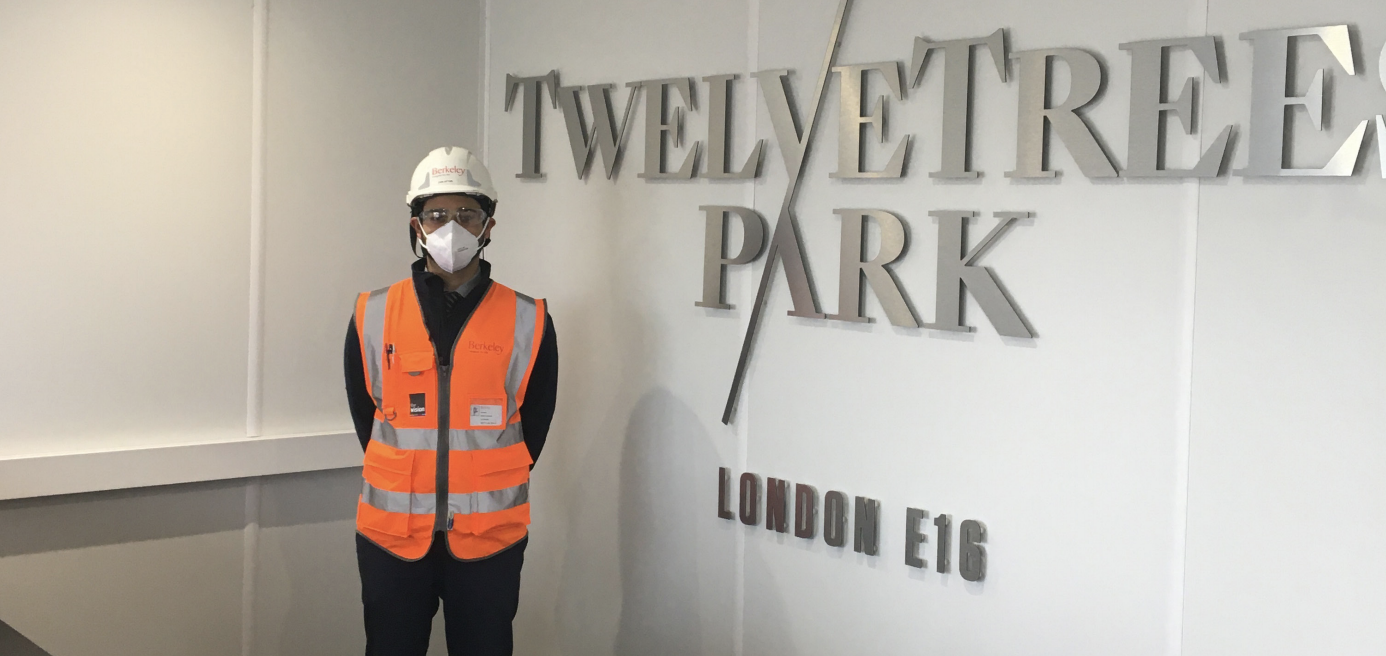 Safety is one of our key values and its never been more important during these unprecedented times. We are taking all the necessary precautions to manage Covid-19 both on and off site, to ensure the safety of our workforce whilst working or walking in the local community.
Safety measures include social distancing, regular deep cleaning of all facilities and equipment, the use of infra-red thermometers to temperature check all site visitors and operatives and the use of masks whilst in our offices or on-site which we are monitored via the use of drones, regular guidance and updates as well as spot checks. Just a few of the ways we are trying to keep the community safe.
Apprenticeships and Employment Opportunities
We are keen to deliver this development together with the local community, which is why we are committed to employing 25% of our workforce on site from the local Newham community. We are already working closely with Our Newham Work and New Vic College on work placements, experience and apprenticeships. We are keen to ensure local people have the opportunity be part of this once in a lifetime development and encourage all local residents regardless of age and ability to get in touch to see what training and employment opportunities we have on offer.
For more information on apprenticeship and employment opportunities please get in touch with Stav Aristokle Hill Apprenticeships@berkeleygroup.co.uk or visit the website to see the range of opportunities on offer https://www.berkeleygroup.co.uk/about-us/careers